About

Sarah Daher is a Lebanese curator, researcher, and writer. She holds a Masters degree in Curating Contemporary Art from the Royal College of Art in London and a BA in Theater and Economics from New York University Abu Dhabi. Sarah is currently based in the UAE where she works as a curator and writer. Her most recent shows include After the Beep held at Satellite on Alserkal Avenue in Dubai and Fulfilment Services Ltd in collaboration with Gasworks London. She is the founder and co-host of 'Khosh Bosh with Anita and Sarah', a conversational podcast platforming the work of UAE-based creatives. Sarah worked as a researcher for Temporary Art Platform, a curatorial platform focused on the development of social practice in Lebanon, the region, and the Global South.

Contact Sarah by emailing sarah.daher@network.rca.ac.uk or via
Instagram
(please do contact me! I am open to writing, curating, and speaking commissions and always up for an exciting new project!)
---
Press about Sarah


Young Voices in Dubai
, by Vamika Sinha
Canvas Magazine Issue 99, September 2021
Dirwaza Microfund for Creative Access
As an active part of the Dirwaza Incubator, the Microfund for Creative Access is a resource for UAE-based creative practitioners, granting financial and mentorship support to one proposal per month in May, June, and July as well as September, October and November of 2022.
The Microfund encourages experimentation in multiple forms. Creatives of all disciplines are encouraged to apply with proposals for unrealized new projects as well as already in-progress projects.
Accepted applicants will be granted up to 1,000 AED to be directed towards the execution of their proposal and will be asked to generate a personal archive (fluid in form) of their creative process during their time being supported by the Microfund. All projects are to submit a final reflection, at the latest, 90 days after acceptance.
For more information, or to apply - visit
dirwazalab.com/incubator
Recent Exhibitions
Telephone began as an artist exercise conceived with the goal of encouraging experimental artistic production as an alternative method in the UAE's otherwise heavily structured and regulated art ecosystem. The two-month long exercise brought together 38 artists of various practices, inviting them to create new work under time pressure in an attempt to challenge the notion of a perfectly produced artwork.

Following in the spirit of the common childhood game, 'Broken Telephone', artists were invited to produce work in response to one another in a linear chain. Each artist had the opportunity to see the work produced before them in the chain and then prepare their response piece based off of what they had seen. Artists were limited by the 48-hour production period from the moment they saw the work preceding theirs to the moment they submitted their own new work.

After the Beep, held at Satellite on Alserkal Avenue, was the exercise's culminating exhibition in which all new works produced by participating artists were revealed to the public. Arranged in a manner that illustrated the order in which the works were produced, it was the first opportunity for participating artists to experience how the art pieces had evolved along the 38-person chain, similar to how a whisper evolves in a round of 'Broken Telephone'.

After the Beep was co-curated by Sarah Daher and Anna Bernice. With support from Rami Farook.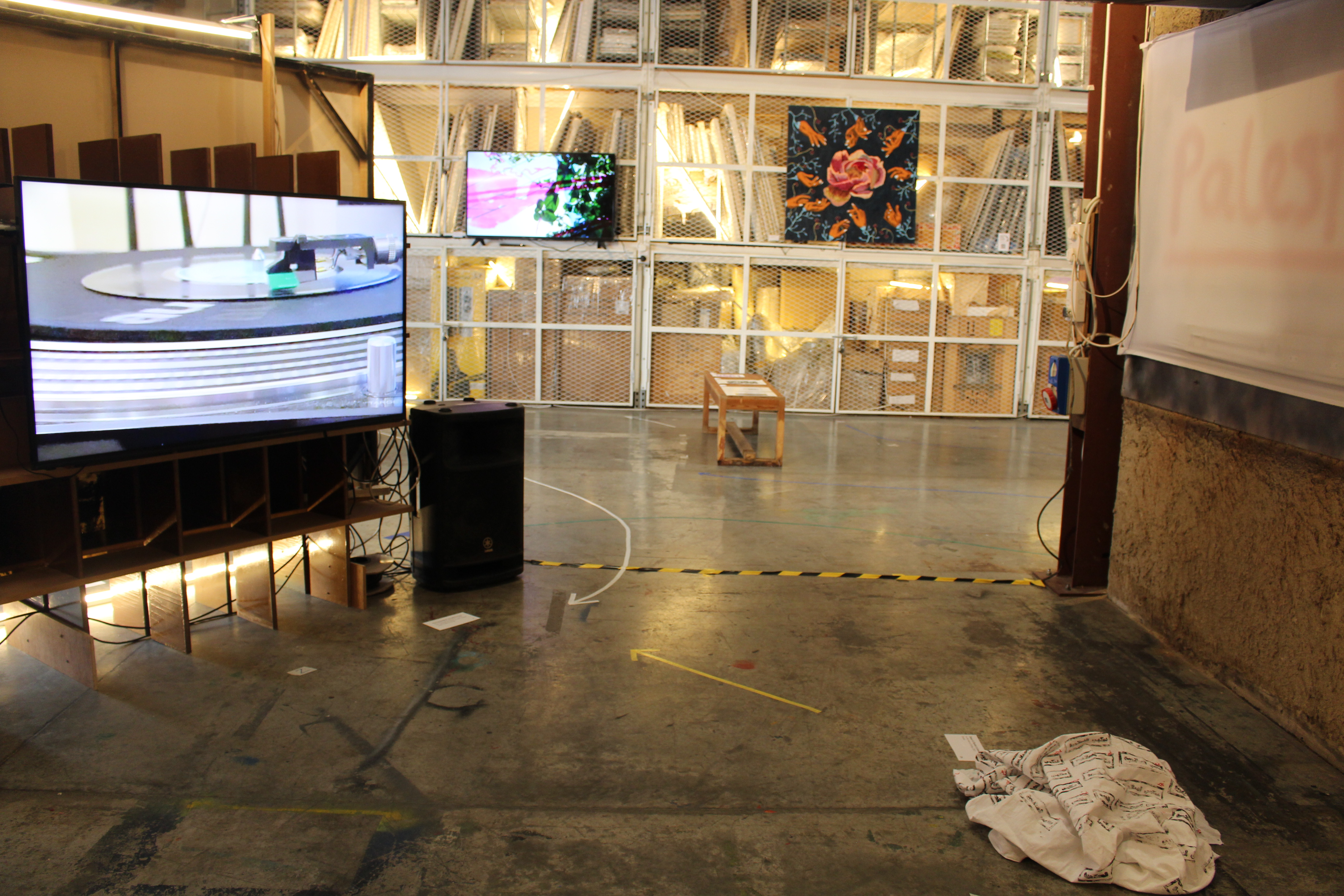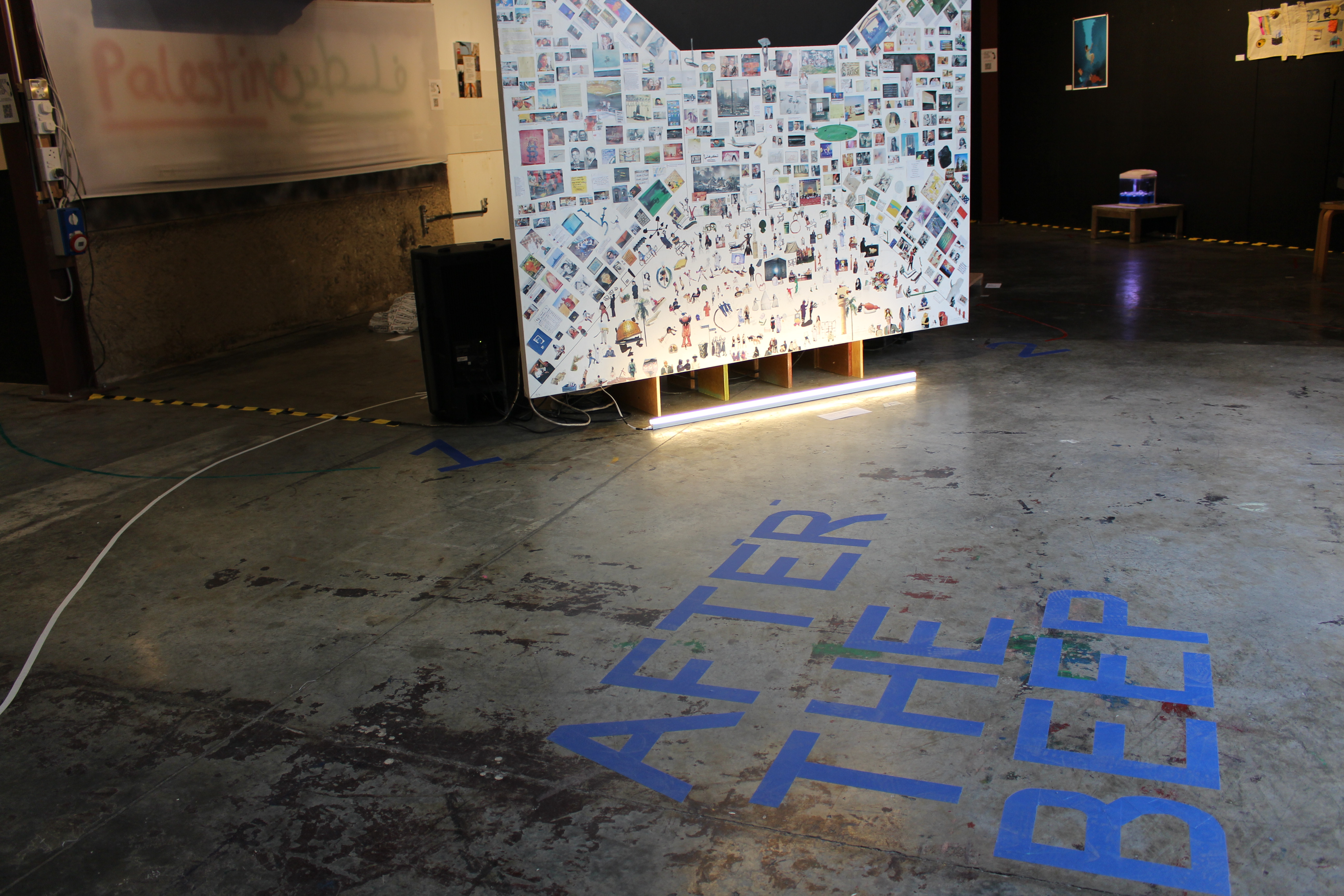 After the Beep, images courtesy of Maria Daher
Fulfilment Services Ltd. explored the implications of techno-capitalism on the widespread supply and demand networks that fulfil consumer needs and desires. Newly commissioned artworks by international artists Arvid&Marie, DNA, Florence Jung, and Frank Wang Yefeng unfolded across physical and digital spaces of distribution including billboards, delivery vehicles, and a digital platform.

Under existing infrastructures of production and consumption, networks are constantly in multi-directional movement building new needs once existing ones have been satisfied. In an ever-expanding and dissatisfying system we asked crucially: is capitalism fulfilling consumers or are consumers fulfilling capitalism?

The four new artist commissions situated themselves in and around London on billboards, delivery vehicles and digitally on an e-commerce platform and website. These works came together under the unified spirit of corroding existing networks of dissemination. At Fulfilment Services Ltd. the disseminated medium was very much part of our message: imagining alternative realities of fulfilment by interrogating the chain of production, networks of transportation, and the extortionist quality of fabricated needs.


Fulfilment Services Ltd. was curated by Andreanne Beguin, Zidong Chen, Sarah Daher, Zifei Ge, Hayley Gibson, Jiawei Gu and Brenna Horrox from the MA Curating Contemporary Art Programme as part of the Graduate Projects 2021, Royal College of Art in partnership with Gasworks, supported by Jack Arts and Print&Digital.